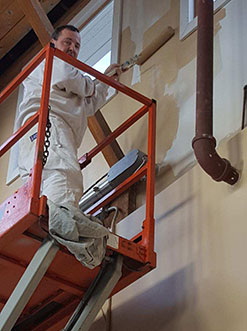 Meet Dan Cokery
I graduated from Canton High School in 1984 and have lived in areas south of Boston my entire life. Currently I am based in Norton, MA.
While dating my future wife, her mother, who worked for a builder got me a job with a painting contractor. Little did I know that this would be the start of a lifelong career doing work that I love.
After a while, I drove a truck at night and painted for myself during the day doing what jobs I could find. Eventually I formed a company called Shine Bright. I worked hard and I secured my unrestricted builders license, HIC License, lead safe certification and have been in working the field year-round for decades.
My family consists of my wonderful wife of now 30 years, my daughter 29, my autistic son 20 and my beautiful spark plug of a grandson 3 along with 2 dogs, 12 birds and a tank of fish.

Dan was fantastic. He showed up on time, which is key! He is knowledgeable and did a great job. Hired him to do more projects in my house. He painted my front door plus outdoor trim. He painted our bathroom. Now we have hired him to paint doors within our home. His prices are fair and you won't be disappointed.
– Michelle E., Norton, MA | 10/18/2018

Shine Bright Painting and Home Improvement did a great job. Daniel is a real kind person. He is up front and honest.
– Cheryl A | 12/18/2017


Shine Bright has been used for several various repair, maintenance and improvement projects at my home. Danny is such a personable and friendly person. He is also a great listener, which makes him so easy to work with. After listening to what you want out a project, he does research with other Professionals (he consulted with a Structural Engineer and a Home Inspection service for one of my projects), will provide suggestions with designs and the ballpark prices involved with that particular process option… Highly recommended!
– Ellen W. | 12/22/2017